Hello! Welcome to Speechies in Business.
We make high quality and affordable templates and other resources to support small and medium NDIS and health providers.
NDIS-registered providers;
unregistered NDIS providers who work with NDIS participants; and
allied and health providers, including physiotherapists, occupational therapists, speech pathologists, psychologists, chiropractors, dental practitioners, optometrists, osteopaths, pharmacists, podiatrists, dietitians, exercise physiologists, audiologists, social workers, music therapists, midwives, orthotic/prosthetic professionals, social workers, Aboriginal and Torres Strait Islander Health practitioners, Chinese medicine practitioners, medical radiation practitioners (including diagnostic radiographers, radiation therapists and nuclear medicine technologists, sonographers), genetic counsellors, and other evidence-based health professions.
---
Our new resources:
From Launch to Waitlist.
Thinking about starting your own speech pathology private practice? Already started, but struggling to get the business side up and running properly? Want your business to be both ethical and profitable from the get-go?
If so, download our free book, detailing the five steps we took to launch our practice successfully.
---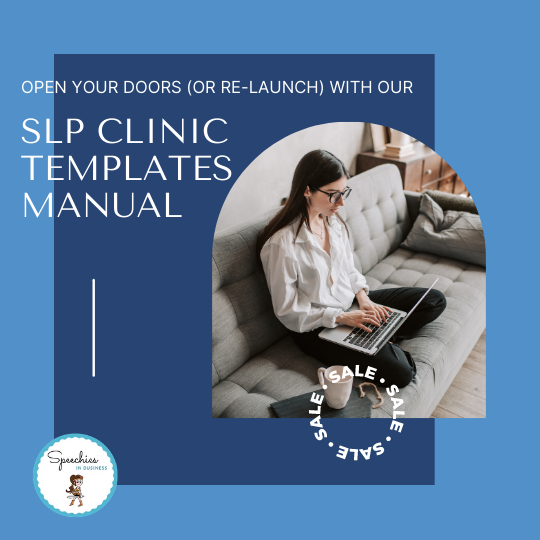 Open your doors (or re-launch) with our SLP Clinic Templates Manual
Our SLP private practice clinic templates manual is packed with 18 templates, all based on tried-and-tested resources we use every day to run our busy speech pathology practice. Filled with fully editable templates, you'll be up and running in no time.
We blog regularly about client communication issues, business tips and resources, our profession and compliance issues.
---
---