Meet Jane.  She's your typical, overworked and underpaid speech-language pathologist (SLP) in private practice.
By day, Jane powers through her therapy sessions with aplomb: her clients love her work, and the care she puts into preparing her sessions.  By night, her mind turns to tomorrow's sessions: to somehow finding the energy to do it all again.
A year ago, most of Jane's clients found her by way of word-of-mouth or through one of her ads in the Yellow Pages and local newspaper.  But, with more SLPs going into private practice by the day, Jane's local competition has become fierce.  To top it off, more and more Mums and Dads are turning to blogs and social media to find information and SLP recommendations.
Jane hates self-promotion at the best of times.  And, with everything else she has going on, she doesn't have the time or energy to research, draft and publish original, clever content for her blog, Facebook, Twitter, Pinterest, LinkedIn or any of the rest.  She has better things to do with her scant free time – like hanging out with her family and friends, or even getting some sleep!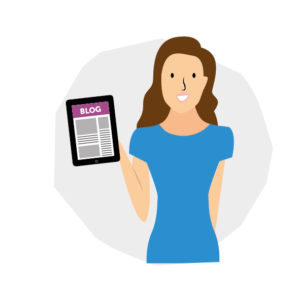 Now, Jane doesn't have to worry.  She's got a swish, click-worthy blog, studded with fresh content tailored for her target clients and for her brand.  Clients beat a path to her website and clinic door.
So how did she do it?
Easy.  She:
went to Speechies in Business;
filled in a questionnaire about her brand, story, target clients, business and needs; and
Jane was delighted by the quote and, within two weeks, she received her original, keyword sensitive blog articles written by a Hanen-Certified, LSVT accredited, certified practising speech pathologist on topics directly relevant to her target clients.
So, if like Jane, your blog or website content needs a refresh; or if you're looking for new, relevant content for your blog and social media updates, we can help you!